Gerab Participates in the Give and Gain Ramadan Campaign 2021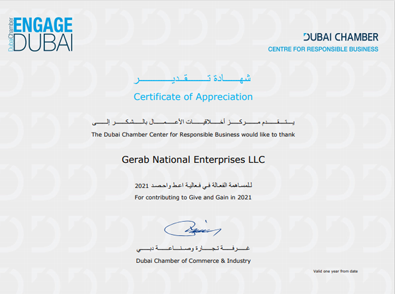 In partnership with the Dubai Chamber, Gerab, through its CSR initiative Khidmah, participated in the Ramadan Give and Gain Campaign 2021. The campaign provided an opportunity for different organizations to offer support for their local community.
Gerab conducted a month-long Ramadan Giving campaign aimed at collecting pre-loved clothes and dry goods for Iftar giveaways for families in need. Team members from Gerab and its subsidiaries (Flexigistic and Samamat) donated boxes of gently-used clothes and iftar food items.
All the items that collected were given to Nefsy, an IACAD (Islamic Affairs & Charitable Activities Department) certified partner who continuously support around 50,000 families by providing them with food and clothing.